Here at Deborah Dey Designs we believe in looking after the future of our planet and we do what we can to be green and help protect it. We're always on the lookout for new ways that we can reduce our use of plastic and decrease our environmental footprint.
We are committed to minimising the environmental impact of the business and our mantra is REDUCE – REUSE – RECYCLE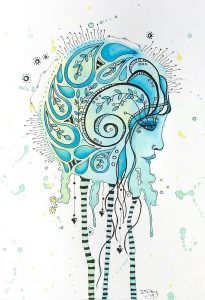 Greeting cards are printed on card which is FSC approved.
We support the Naked Card Campaign, this means greeting card orders have ditched plastic cellos in favour of paper bags to protect them.
At present art prints and fridge magnets are protected in cello bags, which we are not happy about. We are in the process of sourcing a supplier of biodegradable corn starch bags to use in the future, once our stock of cello bags has been used.
UPDATE 16 April 2021 – A4 art and prints are now protected by eco friendly bags made with Nativia, a biodegradeable  film.
Shipping Packaging
Our small items, greeting cards and A4 prints will be shipped in paper and card envelopes.
A3 prints are shipped in card tubes – our stock of these at present have plastic end caps, but we have sourced new totally card packaging for A3 prints which will be used once our present stock has been used.
Small parcels can be wrapped in a variety of  materials, including brown paper. If bubble wrap and and plastic bag packaging is used, please be assured that this is never bought in, we recycle and reuse what our supplies have been shipped to us in.
Power
We even have an energy supplier, that supplies 100% renewable electricity
Our beautiful and essential must have twinkling fairy lights in the Studio are solar powered 🙂